Tonight, I made American Turkey Goulash for dinner. This is a recipe adapted from
Eating for Life
, by Bill Phillips. For the kids, I just don't put any of the red peppers or zucchini on their plates. They pick out the onions...
American Turkey Goulash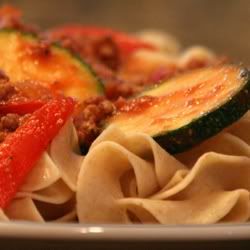 Ingredients
4 portions wheat egg noodles (about 8 oz uncooked)
1 onion, chopped
1 red bell pepper, sliced
1 zucchini, sliced
4 portions lean ground turkey (about 1 lb)
2 cups tomato sauce
dried basil (or 2 Tbsp fresh chopped basil)
2 Tbsp red cooking wine
Directions
Prepare egg noodles according to package directions.
Lightly coat a large skillet with cooking spray. Over medium-high heat, saute chopped onion for 2 minutes. Add bell pepper to the onion and saute for another 2 minutes or so. Add zucchini and saute until softened. Removed vegetables from the skillet and set aside.
Add ground turkey to the skillet and saute until no longer pink, about 10 minutes.
When the ground turkey is done, return vegetables to the skillet. Add tomato sauce, basil and red wine. Cook, stirring occasionally, for 5 minutes, or until heated through.
Place a portion of noodles on each plate and top with a portion of turkey mixture. Serve and enjoy!
Adapted from
Eating for Life
.