I returned this morning from Detroit and drove straight in to work. Over the next few days, I'll take you backwards through my whirlwind of a week.
Let's start with my trip over this weekend. Saturday, my plane left at 6:06 am and arrived back in my home town at 10:45 am. My sister, along with her adorable little boy "J", picked me up at the airport. We met my friend "C" and her daughter "A" at one of my favorite Mexican restaurants. "J" and "A" are a whole seven days apart. "J" is the older man in this relationship. "J" was not really interested in eating when the food came. He was more interested in what "A" was doing. I have a picture of her obviously imitating her mommy, as she is chatting her mommy's cell phone and writing at the same time. Because of their privacy, I won't share it here.
The rest of Saturday was spent in a similar fashion. We visited my parents before "J" went down for a nap. Then, we visited a friend "S" that I haven't seen since before PM was born! She looks great, and her two boys are so grown up! It was definitely nice to catch up. Saturday evening, we met my good friend "B" and her new boyfriend for dinner at one of my all time favorite restaurants. It not only has amazing food, but amazing desserts as well. The cheesecake creations rival the chain "Cheesecake Factory". One difference is that this restaurant's are twice as big! They also have hand whipped topping. YUMMY! But, I couldn't eat the cheesecake after dinner, as I needed to have some of my favorite frozen custard instead! I ate the cheesecake for breakfast on Sunday. It was nice to meet "B's" new man. He seems very nice and family oriented, having two adorable kids of his own.
Sunday was a busy day. We drove up to Detroit for my cousin's wedding. A little background here... My father is a Canadian citizen, still, even after living in the US for more than 37 years. His entire family is in Canada, with the majority around the Windsor area. My cousin is the same age as me, although a few months younger, as he reminded me yesterday.
The wedding was riverfront and gorgeous. The ceremony itself was outdoors, followed by a champagne reception on the deck. A strolling dinner was inside in a glass room, followed by a five piece orchestra with singer. In all, it was a very, very nice event. There were some things that were a little different than any wedding I had ever been to before though. First of all, there was a lot of clapping at the ceremony itself. When the groom walked his mom down the aisle, people clapped. When the son walked the mother of the bride down the aisle people clapped, and so on. It was very, very sweet when the bride walked down the aisle accompanied by both her father and her son, who will be five in a few weeks. Her son was the one that gave her away. Yes, I had tears in my eyes.
Anyway, her family is Ukraine and therefore had some songs and customs that I am not used to. They sang a congratulatory song at the beginning of the reception, after my father's family did the customary whiskey toast to my Zadi and my father's Zadi (my father's family is Jewish and therefore, Grandpa is Zadi).

Here is a shot of all of the cousins that came, along with their significant others. BD didn't come with me, so I am stuck in between my two boy cousins...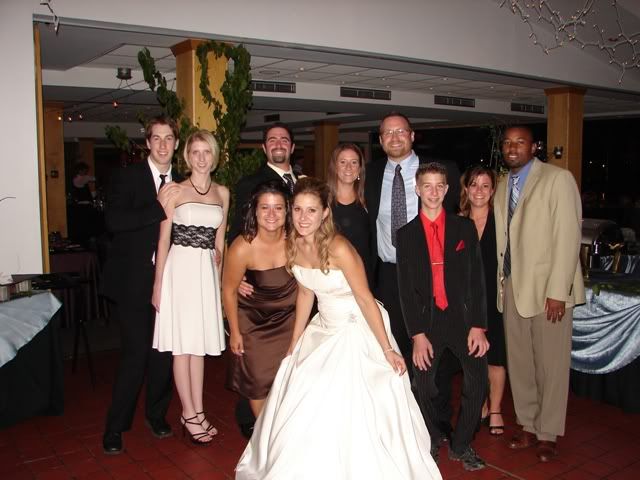 And, lastly, here is all of the family that came, on my dad's side: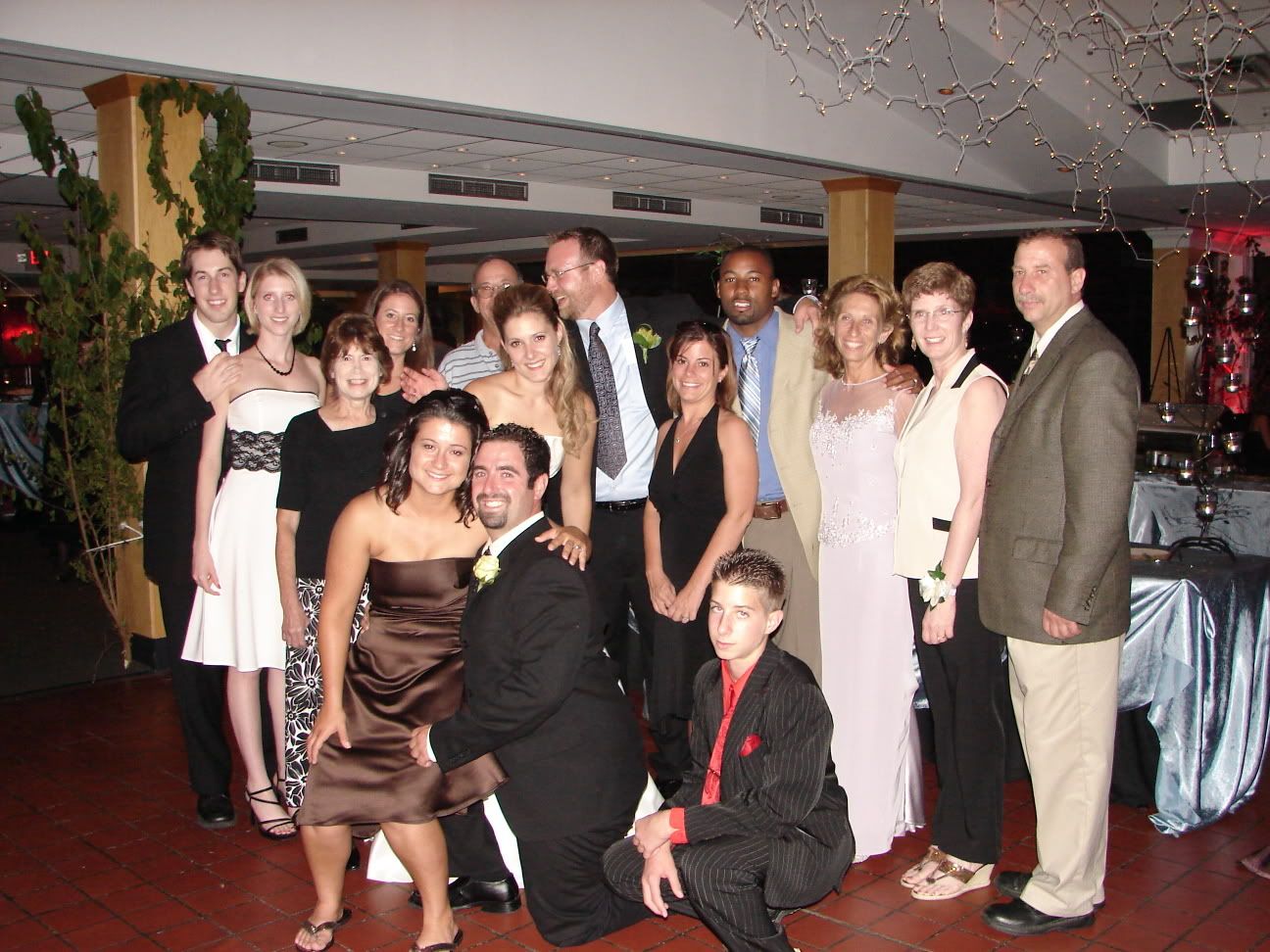 So, there you have it. I flew back home this morning. As we were approaching the airport, I saw this outside my window: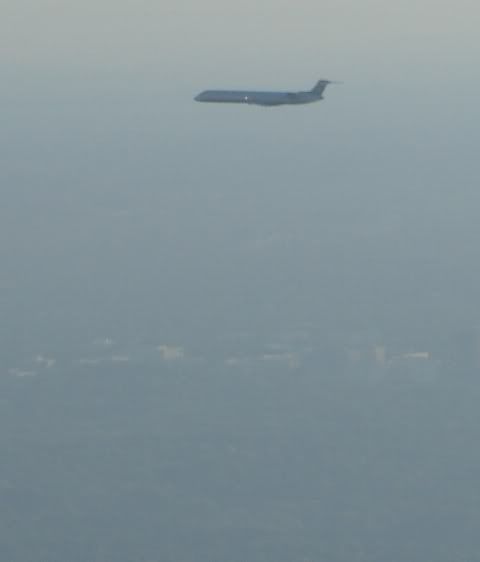 Always strange to see another plane in the air when you are flying. It touched down on the parallel runway about 30 seconds before us.