Well, I made it yesterday flying into O'Hare and then drove to Indiana to my sisters house. I had a good trip and a good time, unfortunately, DQ did not. I talked to BD last evening/afternoon several times and she screamed/cried constantly for about an hour and a half. She was just miserable and wanted me. I feel awful. I really didn't want to leave her in the first place, but I had to. Today she is much better, I guess she just had to get past that first day.
Today BD is taking her and PM to Sunday School. After that, they will eat lunch and take naps. Then, this afternoon, they have a birthday party for one of DQ's friends. It is a dress up party. BD should have fun, especially if PM decides to dress up too, like he did a few weeks ago.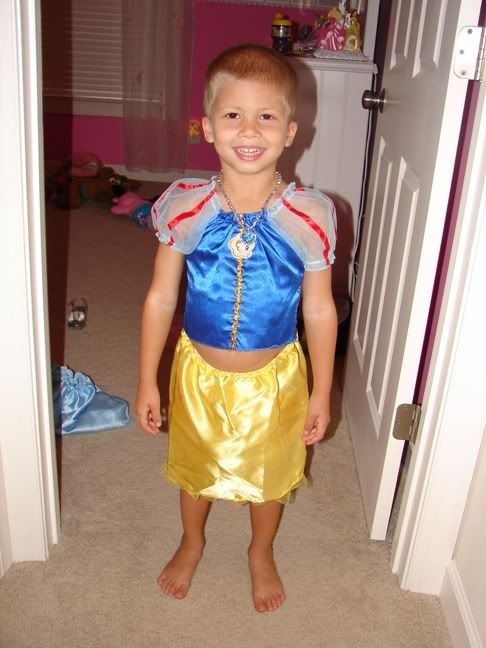 Isn't that just the perfect picture? I can't wait until he is older. I can see this used when he is in high school or at his highschool graduation. I can also see this at his rehearsal dinner. Ah, blackmail material...

So, today I sit in my sisters living room listening to her try to put her son down for a nap. Have I shown you how cute he is?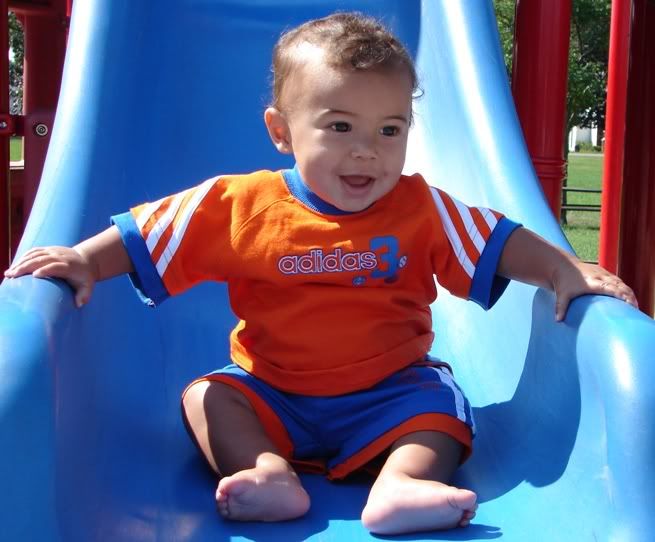 Yes, he is absolutely adorable! He is a few weeks shy of being 10 months old. He is crawling everywhere and can walk behind a toy. Unfortunately, he STILL is not a good sleeper. I am currently reading Sleepless in America by Mary Sheedy Kurcinka and I definitely think she needs to read it too. Anyone with extremely sensitive children or those that just don't get enough sleep should read this book. I'll let you know all of my thoughts when I finish it.
Well, off to surf the internet some more. Later I'll be visiting with some friends and then having dinner with my parents. Only one more day after today in Indiana, then it is back to The Windy City!