I had a full weekend of baking. Saturday morning, the kids begged for Cinnamon Sugar Donut Muffins.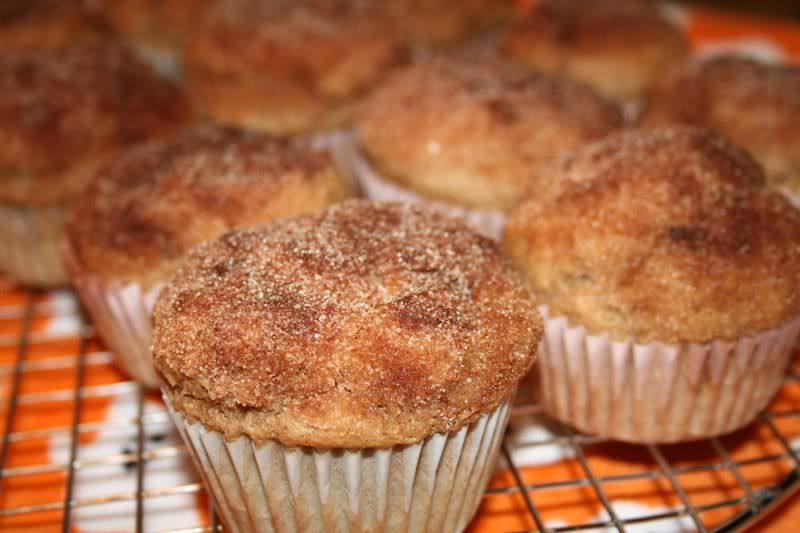 Recipe from
Baked Perfection
Cinnamon Sugar Donut Muffins

2 cups flour (I used 1 cup all-purpose flour and 1 cup whole wheat flour)
1 Tbsp baking powder
½ tsp baking soda
½ tsp salt
1 tsp cinnamon
2 large eggs
1 cup low-fat vanilla yogurt
2/3 cup packed brown sugar
4 tbsp oil
1 tsp vanilla
Topping:
1/2 stick butter, melted
1/4 cup sugar
1 tsp cinnamon
Preheat oven to 400-degrees F. Line a standard muffin pan with paper cups.
Whisk flour, baking powder, baking soda salt, and cinnamon in a large bowl. In a separate bowl, whisk together eggs, yogurt, sugar, oil, and vanilla. Add flour mixture and mix with light strokes until the dry ingredients are just moistened. Do not overmix; batter will not be smooth.
Divide batter among the muffin cups and bake until a toothpick inserted in one or two of the muffins come out clean, 12-15 minutes.
While the muffins are baking, melt 1/2 stick butter and place in a bowl just large enough to hold a muffin. Combine ½ cup of sugar and 1 tsp. cinnamon in a small, shallow bowl. As soon as the muffing are done, dip them one at a time in the melted butter and then roll in the sugar mixture. Set on a rack to cool.
Yields 12 standard muffins.
Then, I made the dough and chilled it for the
Candy Corn Cookies
. Later, I cut them out. Here they are before going into the oven.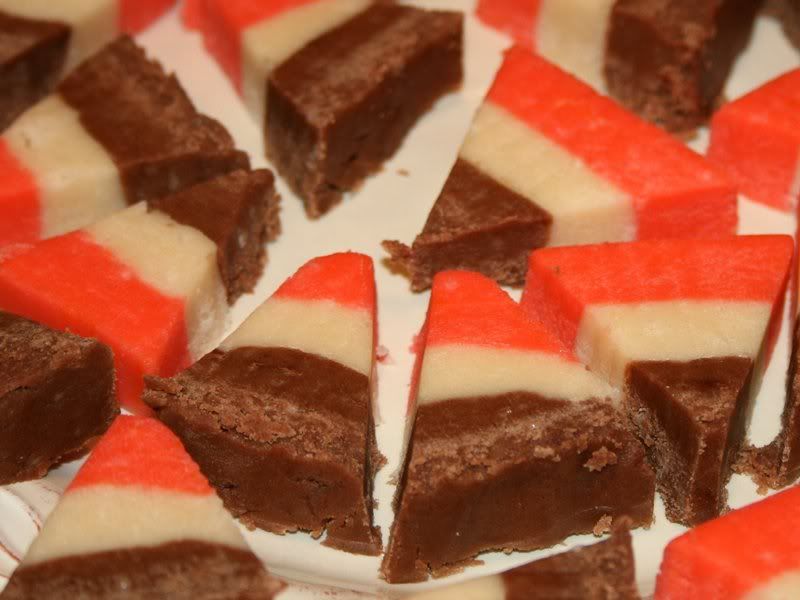 Just out of the oven cookies.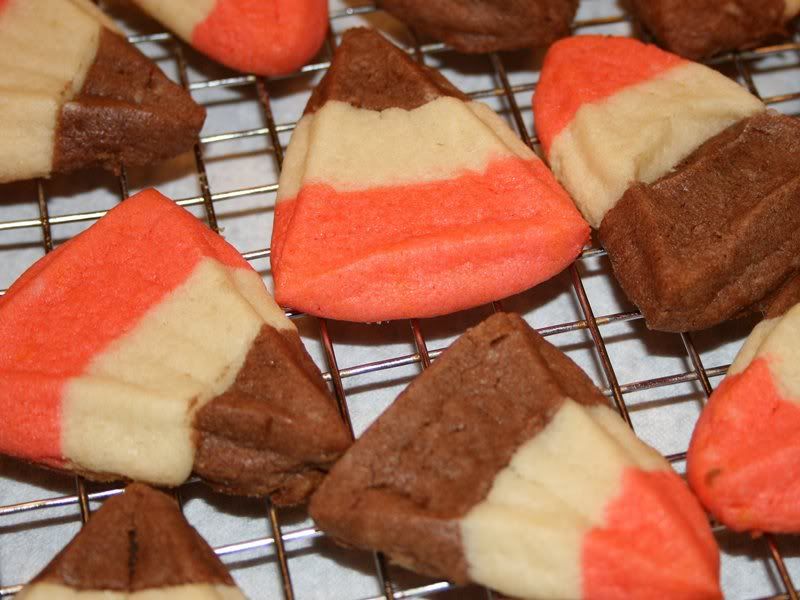 Then, I made
Spiderweb cookies
. Sorry, no pictures...
Sunday, I was in a baking mood again. So, yet another batch of
Spiderweb cookies
and
Candy Corn Cookies
were made.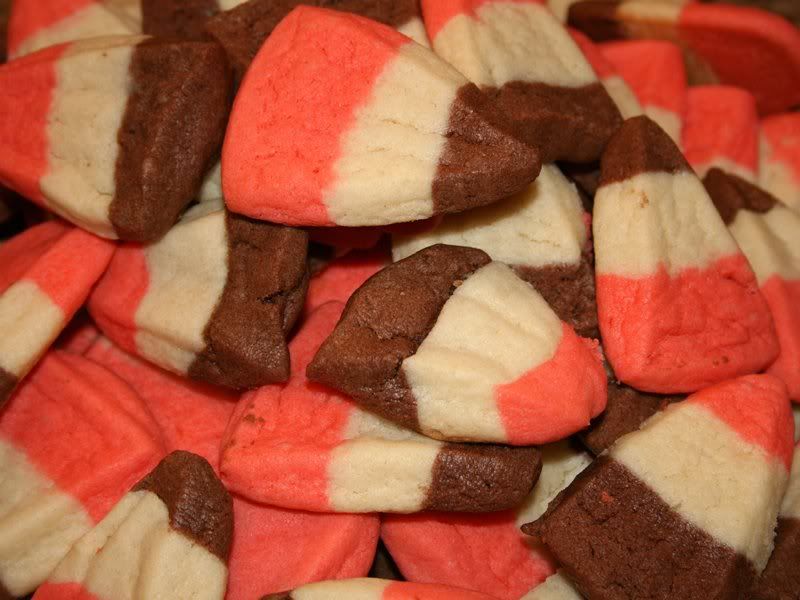 Then, I decided to make Halloween Mud Bars too...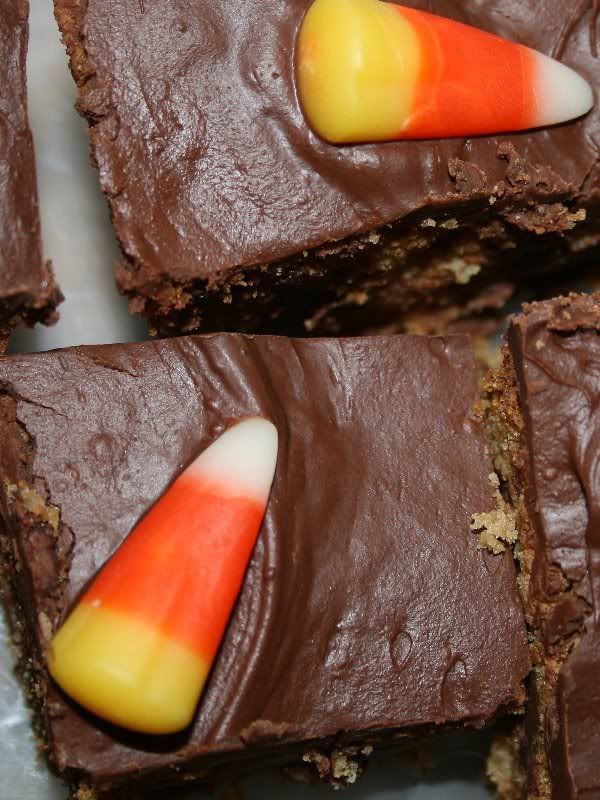 Recipe from
Nestle
Ingredients:
1 cup plus 2 tablespoons all-purpose flour
1/2 teaspoon baking soda
1/2 teaspoon salt
3/4 cup packed brown sugar
1/2 cup (1 stick) butter, softened
1 teaspoon vanilla extract
1 large egg
2 cups (12-oz. pkg.) Nestle Toll-House Semi-Sweet Chocolate Morsels, divided

1/2 cup chopped walnuts
Halloween candy corn
Directions:
PREHEAT oven to 375° F. Grease 9-inch-square baking pan.

COMBINE flour, baking soda and salt in small bowl. Beat sugar, butter and vanilla extract in large mixer bowl until creamy. Beat in egg; gradually beat in flour mixture. Stir in 1 1/4 cups morsels and nuts. Spread into prepared baking pan.

BAKE for 20 to 23 minutes. Remove pan to wire rack. Sprinkle with remaining morsels. Let stand for 5 minutes or until morsels are shiny; spread evenly. Top with candy corn. Cool completely in pan on wire rack. Refrigerate for 5 to 10 minutes or until chocolate is set. Cut into bars.
Yummy!