It has started to tease us with cooler weather here in the southeast. We will get a day here and there that actually feels like fall. I decided it was time to bust out the slow cooker and welcome fall. One of my families favorites in the crock-pot is Beef Stroganoff. Unfortunately, it is typically pretty high in calories, fat, well, everything! So, below is a recipe from
Fix-It and Forget-It Lightly
that I have used in the past.
Beef Stroganoff
Fix-It and Forget-It Lightly
1.5 lbs lean beef stewing meat, trimmed of fat
1 onion, chopped
1 clove garlic, minced
1 tsp salt
1/4 tsp black pepper
1 lb fresh mushrooms
10 3/4 oz can 98% fat-free cream of mushroom soup
1 cup water
1 cup fat-free sour cream
Egg Noodles
Combine chopped onion, garlic, salt, black pepper and soup in slow cooker

Add water, and then stir together, looks like a science project now.

Add mushrooms and meat

Stir together

Cook on low for 6-8 hours. Mine cooked for 8, then my slow cooker switched to "Warm" for me.

Then, add sour cream and stir. About 2.5 hours after it switched to "Warm", and I added the sour cream, this is what it looked like.

Bring water to a boil and cook egg noodles (here I am using the No-Yolks kind, but I prefer the wheat, BD bought the wrong ones) according to package directions.

When finished, add noodles to slow cooker and stir all together.
Yummy, doesn't this look great on a fall day!
Ok, last one...

Serve with a vegetable and, if you like, some type of bread. All I had was a can of corn, no fresh beans or anything! So, that's what the family got.

Oh, and you may be wondering about this perfect looking biscuit?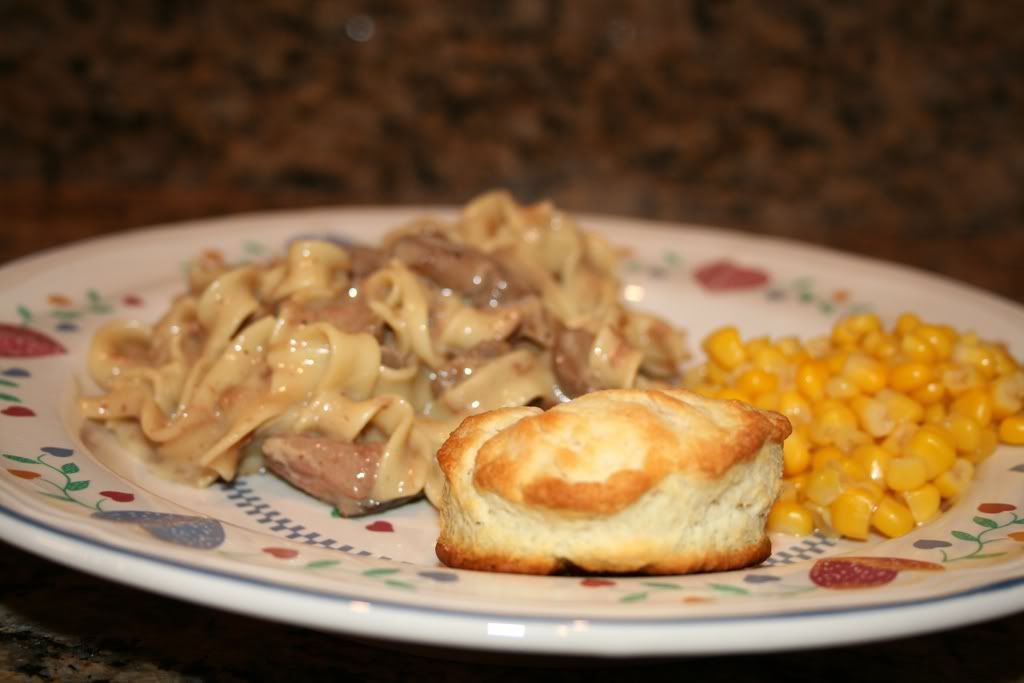 Let me say that looks are deceiving. I followed a recipe in a very old cookbook I had. These were awful. DQ ate hers, but it's carbs and bread, so unless I filled it with spinach, she would eat it. PM took a bite and said (and I quote), "Ewww, disgusting!" Nice, just what every mother wants to hear. So, no, you won't be getting the recipe for those! I'll have to find a nice, yummy, quick biscuit or dinner roll recipe, otherwise, it will be Pillsbury Grands from now on!
Nutritional Info
Per Serving (6 servings, doesn't include noodle info)
240 calories (70 calories from fat)
7g total fat (2.5g saturated, 0.5g trans)
75mg cholesterol
800mg sodium
15g total carbohydrate (1g fiber, 6g sugar)
27g protein