PM had his first fall soccer game today. He plays for the Bulls. It is the same coach and some of the same players as he had in the spring. Now though, they play 5 on 5 with a referee and also goalie. They won 3-1 tonight! That is definitely saying something, as the team they played creamed them every game in the spring. He has a lot of friends on the other team and it was good to see him be able to have fun while still playing against them. Here he is right as the game was starting: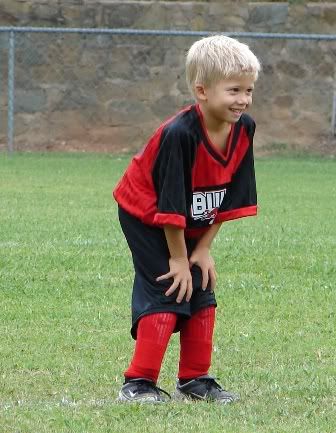 Yes, the clothes are huge... Let's not even go there...
Here is the only other picture I took (can you believe it???):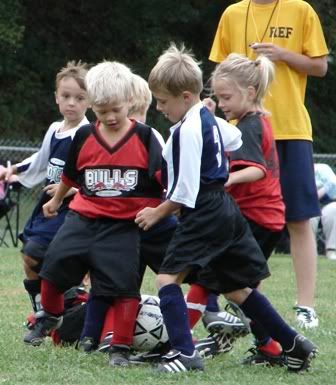 His coach bought a "bench" for them to sit on while they are not playing. It basically looks like six of the folding "bag" chairs all hooked together. While he was sitting on the bench, DQ went over to pester him. He said one of the other boys was teasing him that she was his girlfriend and he had to tell him she was his sister. It was so funny! I am sure he will be getting that for years to come.
DQ's first game isn't until the 29th, so it will be a little while until I can get pictures of that. His next game is next week against a team from his old school. I know at least one of his friends is on the team, as we saw him tonight. He can't wait for that game!