Last night I tried a new recipe out on the family called Chicken Cobbler. BD and I liked it, the kids, not so much. I think this will be one we wait and try out again when the kids are older.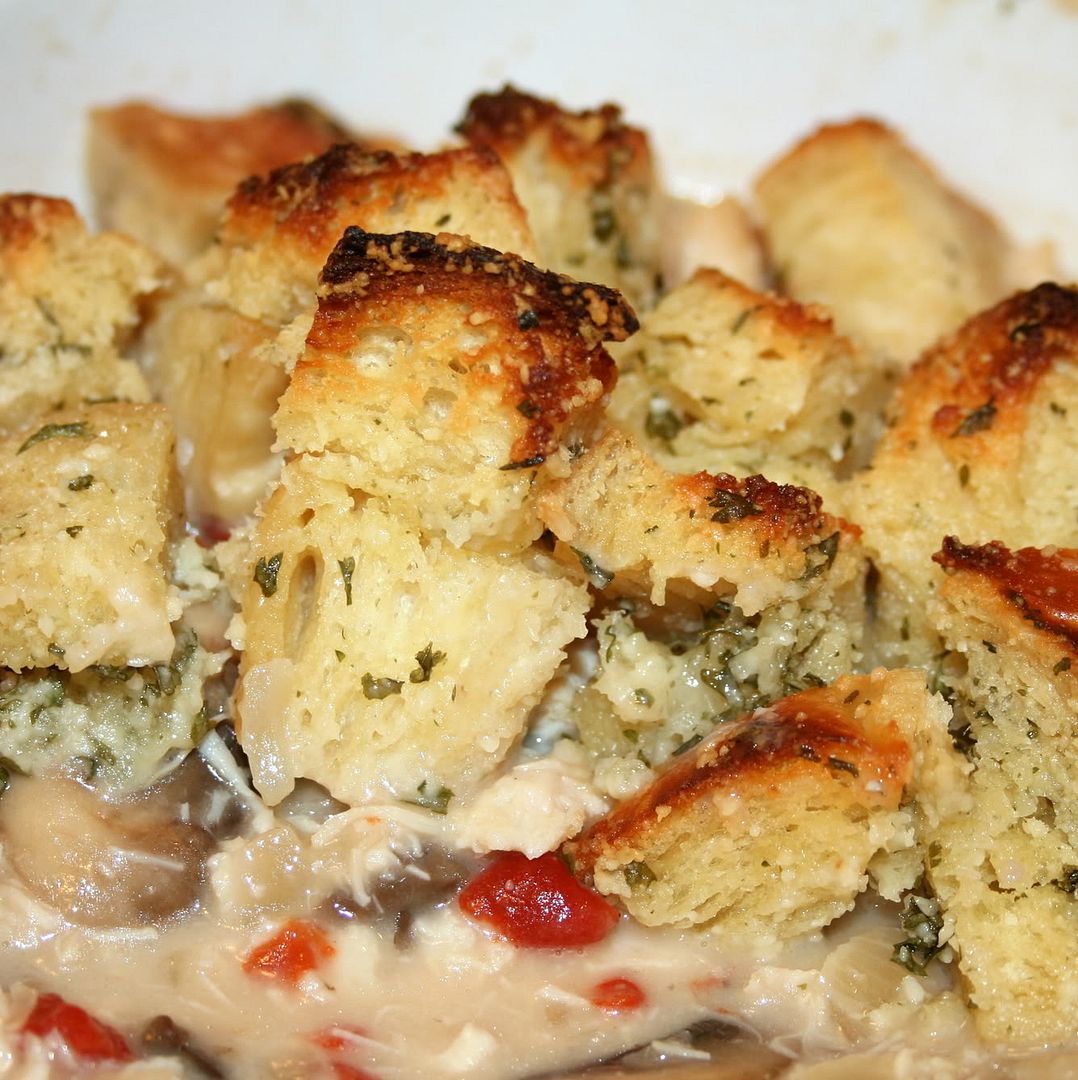 Chicken Cobbler (adapted from Southern Living)
Ingredients:
6 TBSP melted butter, divided
4 cups cubed sourdough rolls (I bought a loaf of sourdough bread and cubed 4 cups)
1/3 cup grated Parmesan cheese
2 TBSP chopped fresh parsley (I just used some dried, just sprinkled in)
2 medium-size sweet onions, sliced (I used one med/lrg and diced it)
1 (8-ounce) package sliced fresh mushrooms
1 cup white wine (I had to use cooking wine, as I finished off my open bottle the night before!)
1 (10 3/4 ounce) can cream of mushroom soup
1/2 cup drained and chopped jarred roasted red bell peppers
2 1/2 cups shredded cooked chicken (I used 2-20 oz cans and drained and shredded, next time though, I'll buy rotisserie and use it instead)
Directions:
Toss 4 TBSP melted butter with cubed bread, Parmesan cheese and parsley, set aside.
Saute onions in remaining 2 TBSP butter in a large skillet over medium-high heat 15 minutes or until golden brown. Add mushrooms and saute for 5 minutes.
Stir in wine, soup, peppers and chicken. Cook, stirring constantly, 5 minutes or until bubbly.
Spoon mixture into a lightly greased baking dish and top evenly with bread mixture.
Bake at 400 degrees for 15 minutes, or until golden brown (mine baked 13 min.).